Below the Snow & Above the Fog: A Year-Round Playground
---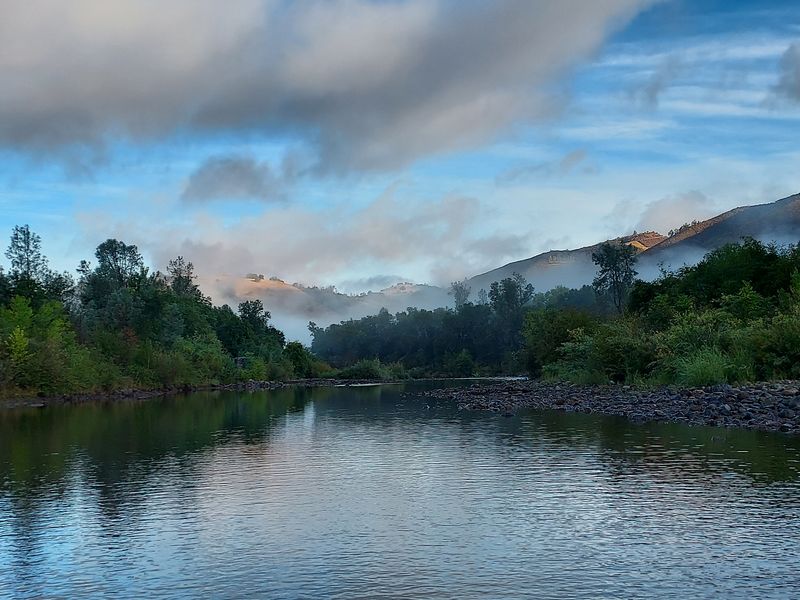 Below the Snow & Above the Fog: A Year-Round Playground
Shhh! Maybe the great year-round climate should be kept a secret, but the news about the fine weather is too good not to pass on. Now that the summer whitewater rafting & kayaking season has peaked, the equipment is tucked into storage and guides head back to college, Costa Rica or other destinations, locals relish what many consider the finest times of the year.
As temperatures cool, the lucky Coloma-Lotus valley residents who remain here, along with savvy campers and RVers, find plenty to do. Hiking, bicycling and other land activities become more attractive. Fall colors peak in October and November, when black oak forests and riverside cottonwoods blaze with orange and yellow. Savvy visitors love this time, often fitting in a visit to the valley with a trip to Apple Hill, local ranches, and wineries — all of which beckon with great savory attractions.
Winter, with its gentle, life-giving rains, is a time for indoor holiday activities, such as Christmas in Coloma, winter winery events, and local business open houses. In January, Marshall Gold Discovery State Historic Park celebrates the anniversary of the first California gold discovery. See our calendar for more local events.
Any long-time resident of the valley has heard this question from outsiders: "How much snow did you get this year?" and that local resident will give the usual answer: None. Very occasionally the valley will receive several inches of snow, to the delight of local children. However, we're at a surprisingly low elevation — the river is at about 700 to 750 feet above sea level. Even that slight elevation, however, is enough to protect the valley from the dreary tule fog that plagues the Central Valley. So winters here are delightful, typically characterized by winter rains, frosty mornings and localized river mists that dissipate as the sun rises. For more information, forecasts, and links to road conditions, visit our Weather page.
Do come to Coloma-Lotus year-round for gorgeous natural beauty, delectable agricultural and culinary offerings, as well as our arts, history, and culture. Many restaurants, bed and breakfasts, campgrounds and other lodgings are available year-round and generally are uncrowded. The B&Bs; are beautifully decorated for the holidays. You're welcome to visit, and enjoy, any time!